Well when gabe and i first got married we got a very nice dinning table and 8 chairs from pier one. but its not exactly the style im going for anymore its all wood and has great potential to make it fit but i have been nervous to redo it. so when i saw on craiglist a table and 4 chairs for 50 bucks i was sold! i drove a hour to go get it. I figured i could redo do this one and practice for the bigger table redo. i will talk more another day about my big plans for that table.
So i got steal wool and vinager. let it sit over night. now what i read said, use the finest steal wool but i didnt have that so i used i medium one. and it worked great. i put a few coats on.
here is the butter block table half done
here it is after a couple coats and just 30 mins or so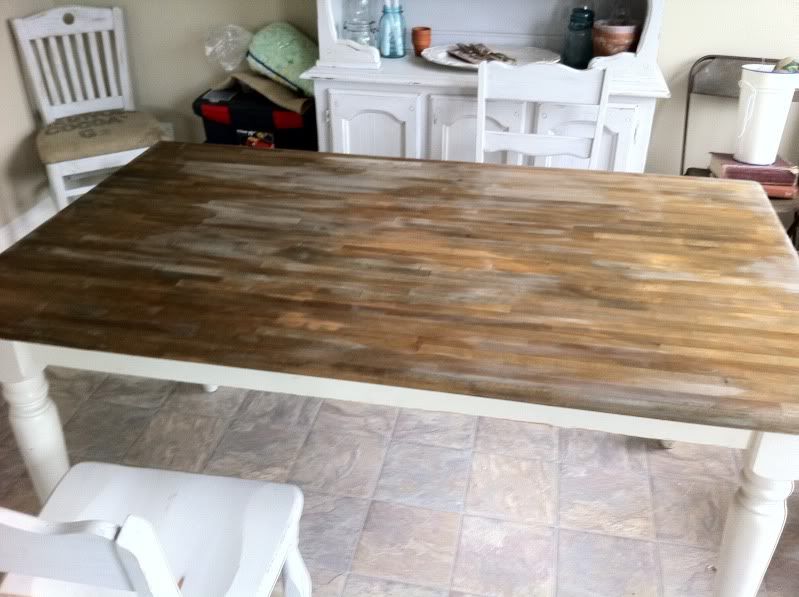 i had to sand some areas done more and reapply but it finally worked.
here is the after all waxed and buffed. (i still need to put another coat of wax cause my kids spilled juice on it and it left a spot :( )
here it is!
Now for the chairs
they were just this orange finish bleh!
i lighty sanded them and painted a white flat paint on them it took two coats
here is one coat on the left and two on the right.
i had to work inside cause it was freezing and raining out. and im proud to say i didnt get it anywhere it wasnt supposed to big lol.
then i sanded them and distressed and use a water based poly
here is my after picture (taken with my phone )
here you can kinda see them in this better picture :)
hope you enjoyed :)